<![endif]-->
The Diamond Experts
As part of the De Beers Group Of Companies, Forevermark draws on more than 130 years of diamond expertise to bring you the most carefully selected diamonds in the world. Each one is responsibly sourced, and then meticulously cut, polished and graded before it can be inscribed with proprietary technology that makes it uniquely yours.  Forevermark leads the industry with innovative technology and employs practices to ensure the highest quality and authenticity.
<![endif]-->
<![endif]-->
<![endif]-->
<![endif]-->
The Forevermark Journey: Sourcing
Every Forevermark diamond starts it's journey as a natural mineral sourced from a handful of carefully selected mines in countries such as South Africa, Botswana, Namibia and Canada. Forevermark diamonds are mined deep below ground, from the ocean and even beneath an Arctic lake.
Each mine must meet exigent business, social and environmental standards and endure rigorous third-party auditing. De Beers makes lasting contributions to the mining communities through educational, medical and social initiatives as well as taking action to address the environmental impact of mining.
<![endif]-->
The Forevermark Journey: Sorting
Once the rough diamonds have been liberated from their host rock, or kimberlite, sorters assess each diamond according to their natural characteristics, looking at their colour, size and shape.
This takes great skill and years of training. A select group of Diamantaires purchase specific allocations of rough diamonds. Of 85 De Beers' Sightholders, only half have been selected to craft Forevermark diamonds.
<![endif]-->
Having chosen rough diamonds, these master craftsmen begin the process of cutting and polishing the diamonds. Here is where the brilliance, fire and scintillation of a diamond are unleashed. Experience, time and patience are essential. As each and every facet is carefully exacted, even one mistake could reduce the diamonds light and beauty.
A truly beautiful diamond must have near-perfect symmetry. Once the diamond has been polished precisely, it is evaluated and graded so against a set of standards and be classified among other diamonds.
Diamond Grading and Inscription
<![endif]-->
The Forevermark Journey: Grading
A polished diamond is then sent to one of the Forevermark Diamond Institutes. Here, expert graders draw on proprietary, state-of-the-art technologies and years of experience to examine each diamond, going beyond the technical 4C's criteria to hand-select only the most beautiful to become Forevermark.
A diamond will go through, at minimum, a seventeen-step process. The diamond will be thoroughly checked and rigorously examined by expert graders for any flaws or imperfections that will impact its beauty. The diamonds are also scanned by industry-leading proprietary machines to check for their authenticity, carat weight and symmetry, and then hand examined for colour categorisation and inclusions, or flaws visible to the naked eye.
Forevermark diamonds must be completely natural, and must have close to perfectly polished tables, where the inscription is placed. Out of all of the diamonds in the world, less than 1% qualify to become Forevermark diamonds.
Forevermark Grading Reports: A Forevermark Grading Report, produced by expert gemologists, can be requested with your inscribed diamond. The Report features the unique identification number inscribed on the diamond, a bespoke security hologram, and an accurate blueprint of the Cut, Colour, Clarity and Carat of each diamond.
Every Forevermark diamond is inscribed with a number that represents a three-fold promise: that the diamond is beautiful, rare and responsibly sourced. Invisible to the naked eye, this inscription includes the Forevermark icon and a unique number that is unique to you.
<![endif]-->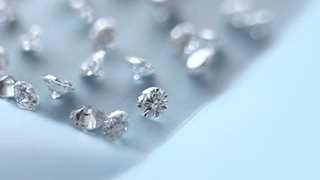 <![endif]-->
The inscription is 1/20th of a micron deep – 1/5,000th the depth of a human hair – and is placed on the table facet of the diamond, using confidential, proprietary technology developed by the De Beers Group of Companies. It does not affect the internal quality of the diamond. Smaller diamonds, those of less than 14 points, cannot accommodate the inscription, and therefore are not inscribed by Forevermark. The inscription can only be seen with a Forevermark Viewer which offers superb magnification and clarity.
<![endif]-->
The Journey: Design and Innovation
The Forevermark Design and Innovation Centre is a creative hub which develops Forevermark designs. Located in Milan, a city of high fashion, fine art and design, the FD&I consists of a group of designers that conceptualize and create jewellery which celebrate Forevermark diamonds.
You can obtain a Forevermark diamond in one of three ways- as a loose diamond that you have placed in the setting of your choice; within a beautiful piece of jewelry created by one of Forevermark's authorised designers; or by your local jeweler, who may want to use a brilliant Forevermark diamond in one of their own designs.