<![endif]-->
Sophia Mphuthi and Alice Mandiwana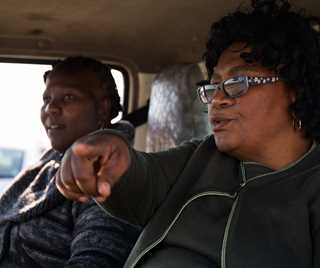 <![endif]-->
<![endif]-->
<![endif]-->
Sophia Mphuthi started her driving school from her home in Kimberley in 2009, with the support of the Zimele programme, which was launched in South Africa that year. The programme enabled her to buy a truck as well as a car so she could also offer truck driving lessons. In 2011, Zimele stepped in again and financed a second truck.
Three years later, Sophia received Transport Education and Training Authority accreditation, which helped her develop her business still further. And, in 2015, her Excellence Driving Academy was awarded a skills programme to train 50 unemployed young people in the Northern Cape region – and she still conducts the driving lessons herself.

"My business has achieved the highest service levels in this industry, due to the fact that I started my business with brand new vehicles and was able to give the best possible service," Sophia says. "I have learnt a lot of business skills through the Zimele mentoring programme and I have learnt how to create possibility, even where there is none."

In 2014, Sophia trained 503 people, with a 90% pass rate in the driving exam. More than half of the learner drivers were women. She also runs her own social responsibility programme, offering free tuition to women and young people from the community who cannot afford to pay for driving lessons.

"It is very important in Kimberley in the Northern Cape actually for us to have driving schools because every company nowadays requires joiners to have a driving licence," she says. "We must help our children to get their driving licence; it increases work opportunities for their future."

The Zimele programme is one way that Forevermark, as part of The De Beers Group of Companies, supports business initiatives in diamond producing countries.

'Zimele' means 'stand on your own feet' or 'be independent'. The programme helps people start or grow their own business, aiming to facilitate the creation, promotion and expansion of sustainable businesses through funding and mentoring.
<![endif]-->
SOPHIA MPHUTHI and ALICE MANDIWANA
<![endif]-->
<![endif]-->
<![endif]-->
A trained fire fighter, Alice Mandiwana couldn't find any employment in her field, so she seized the opportunity to join De Beers in 2011, receiving full training to become an engine operator at the Venetia Mine in Limpopo.

She was the first woman to join as an engine operator. Alice recalls: "I was shocked by the size of the trucks, and I wondered how I would manage to operate such a big vehicle."

After six months' training, Alice gained confidence and developed her driving skills to operate the mine trucks. She started driving engines on her own. Now one of the most skilled drivers, she trains new drivers, including women.

"Driving this big engine requires all your focus and attention," she says. "Key to being a successful operator is also to get proper rest during your time off."

Alice provides a living for her family. Her husband Tama lost his job and is now looking after their children, Junior and Abigail. Both children were amazed when Alice showed them a photograph of her standing in front of the machine she operates.

She says: "I'm very proud to work for De Beers because I am making a living for my family and I'm very proud because we produce high quality diamonds."

Out of the nearly 100 engine operators at the Venetia Mine, 45 are women and have been trained over the last four years – following in Alice's footsteps.
<![endif]-->
For Women. Forever.
We believe that thriving, sustainable economies not only benefit from, but require the full and equal participation of women and that it is every woman's right to give and make her contribution. Forevermark, as part of The De Beers Group of Companies, contributes to the provision of good quality healthcare and education, and supports women entrepreneurs and their businesses.