Megan & André –
Forever at each other's side
After working at the same company but never working directly with each other Megan and André were finally introduced at a work dinner. André still remembers how he was immediately taken aback by Megan's beauty, her confident presence and her fun demeanor; she made him feel like he was the only person in the room. And Megan knew that there was something really special and intriguing about André.
After talking all evening, it felt like they had known each other their whole lives, even though they had only just met – it was the beginning of their Forever.
Finding Forever
André knew from the moment they first met that Megan was going to be different than anyone else. After just a few weeks dating, long conversations and spending more and more time together, he realised that she was the one; he had met his best friend and his life partner. When you know, you just know.
From the moment we first met I knew she was going to be someone special in my life.
The defining moment for Megan was how André made her feel after spending time with him. He inspired her to step outside her comfort zone, to try new things and to be a better person. He had made her feel optimistic about love and to embrace the special bond that they had. It was then that she knew that he was the one, and she couldn't imagine life without him.
I reached a place where I just knew I wanted to do life with him Forever and couldn't envision us not being in it together.
An everlasting love
For André, proposing with a diamond engagement ring was very important to him. After growing up closely with his grandparents he saw the unconditional love that his grandfather had for his grandmother. Over the years, his grandfather had bought her many diamond rings to symbolise his love for her, and André had fond memories of his grandmother's diamond rings sparkling in the sunshine.
Ever since this, André always knew that was what he wanted for his own future relationship. So, for André, a diamond engagement ring would symbolise their love and commitment to one another and it would stand the test of time.
When thinking about choosing the engagement ring for Megan, there was one place that André thought of immediately. Every Saturday morning, they walk their dogs through the town, and walk past their local jewellers. Megan would always have a glow about her when she would look and talk about the rings, so André knew that this would be the perfect place. As soon as he saw the ring he knew that it was the one and that Megan could wear it with pride with its beautiful De Beers Forevermark diamond. He also hoped too, that just like he had done with his grandparents, that his future grandchildren would look up to him and Megan and want to replicate what they have.
The silver lining
When going into a new relationship you have to consider both yourself and your partner, and this can mean that you don't always agree with each other or get your own way anymore, a challenge that both Megan and André had to learn to overcome.
When learning how to resolve this, they discovered that being in a relationship with someone Forever involves each person committing to clear communication through both the good and the bad times and learning to compromise with one another.
They learnt that they need to be there for each other, they need to continue to communicate and they need to be open with one another. By following this it makes them stronger as a couple as they know that no matter what, they'll always figure it out together.
I remember thinking to myself when I was young, that's what I want for my future wife. A diamond that was a symbol that showed our love and commitment to each other and that would also stand the testament of time.
Forever means having one person you know you are going to go through life with – the ups, downs and everything in between and regardless will share an unconditional love and support for one another.
Forever is…
Forever for Megan and André is being committed to going through life together as both individuals and partners. It's about the good times and the bad and the extraordinary and the everyday. It's getting through anything that life is destined to throw at them but seeing them as adventures and always, no matter what, Forever being at each other's side.
Life's about building experiences with the people you love, and with Megan, I couldn't have found a better partner to experience life with Forever.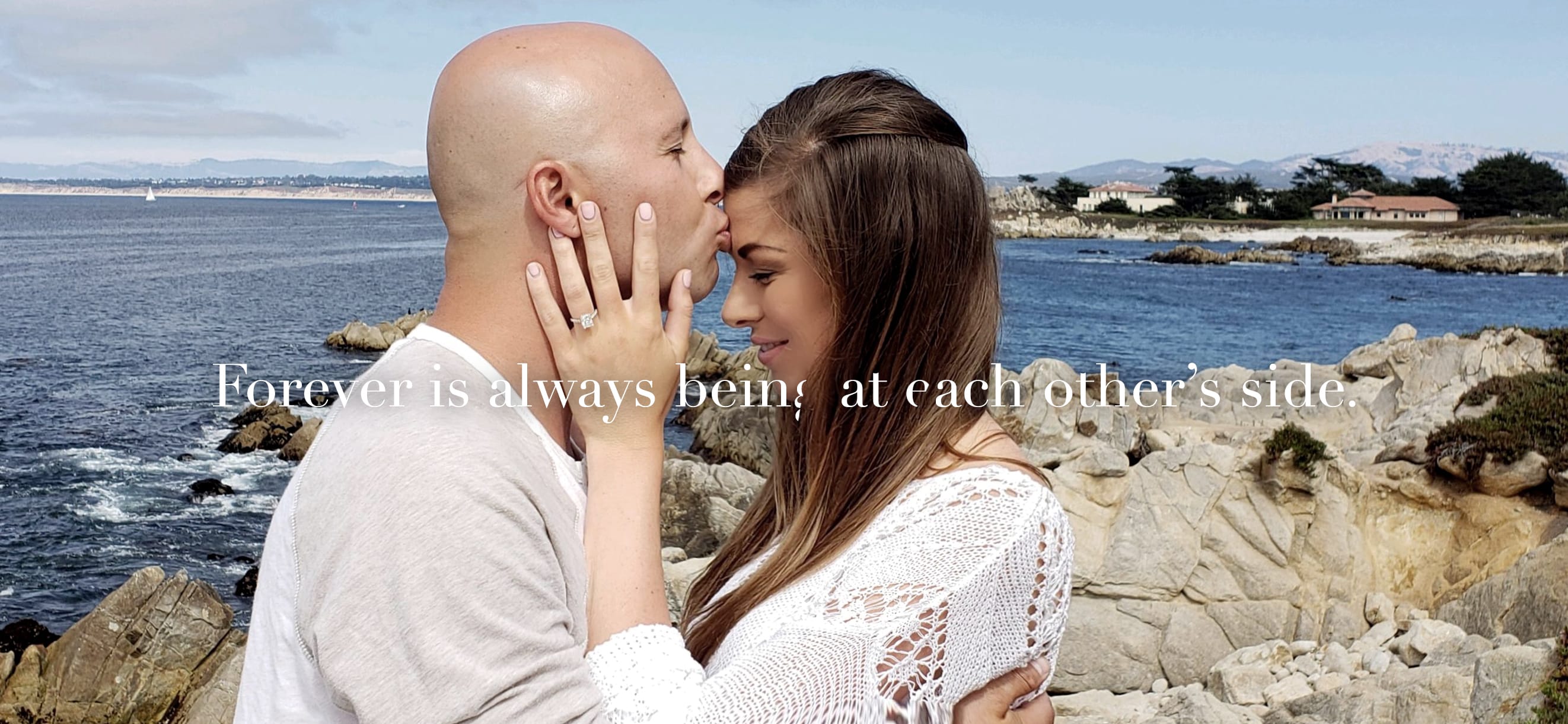 Discover more Finding Forever Stories
Share your moments with us!
We'd love to feature your images and videos on our website (but we'll always check with you before we do). Whether it's your favourite piece of De Beers Forevermark jewellery or a special moment, here are a few tips on how to take a great shot:
Ensure your photo is in focus
Use natural colour in good light (#nofilter)
Capture the spontaneous, real moments in between the poses
Share on Instagram using #Forevermark and tag us @forevermark
Learn More About De Beers Forevermark