Forevermark Avaanti™
Collection Styling Guide
When it comes to expressing personal style through jewellery, Forevermark Avaanti™ – the seminal new collection from Forevermark – sets an exciting new standard.
Forevermark Avaanti™ has been designed for those that understand the potential power within the first ripple. Believing we are stronger together, she respects and supports others with the same values. She has the strength and confidence to live according to her own rules. She knows that life's most rewarding journeys start with a first step, and she takes hers fearlessly.
Versatile and distinctive, the Forevermark Avaanti™ collection has all the qualities necessary to stand the test of time. Central to each design is a sweeping silhouette that symbolises constant growth. The collection's contemporary yet timeless design can complement, or transform, any outfit. Remarkable Forevermark diamonds elevate every look, every time.
So many factors can influence how you style your jewellery. Ultimately, you know what you like, and the effect you want to achieve. This Styling Guide will help you style your diamond jewellery to create a look that is yours and yours alone.
Know Your Style
It's not just which Forevermark Avaanti™ design you choose, but how you wear it, that allows you to express your style in a way that's personal to you. These suggestions will let you put Forevermark Avaanti™ at the heart of your preferred look.
Modern
The signature sweeping arcs and elegant silhouettes of the Forevermark Avaanti™ collection make it the epitome of contemporary cool.
Minimal
A single Forevermark Avaanti™ design will be all the statement you need against a pared back outfit. Sticking to a single gold colour – all white, for example – will keep things minimal yet interesting.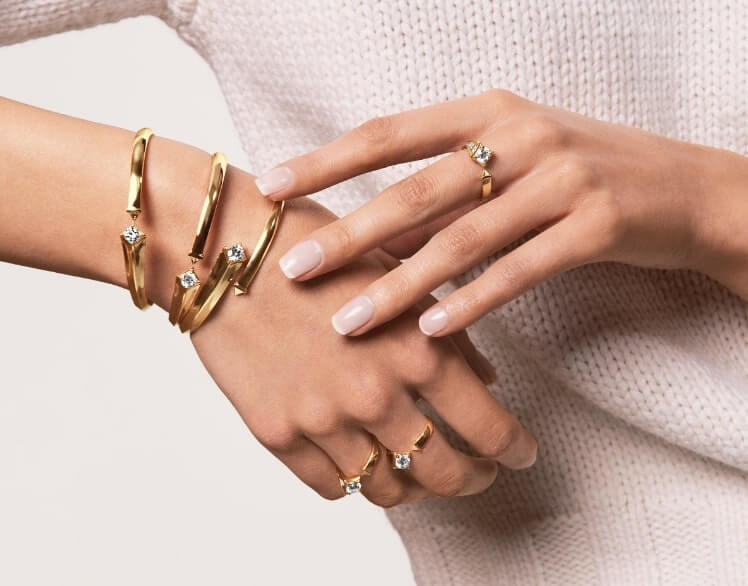 Maximal
Stacking and layering are both brilliant ways to create a head-turning statement look. See Mix & Match (below) for all you need to know about this approach.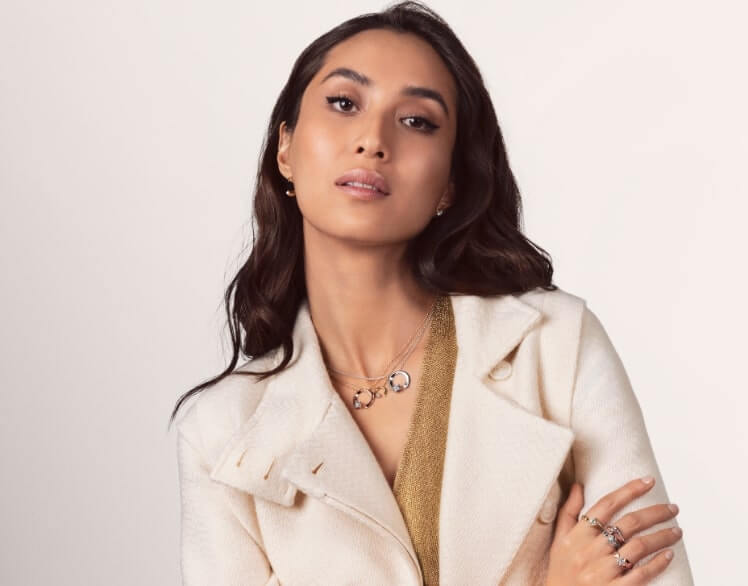 Edgy
Think outside the box and wear your jewellery in unexpected ways. A set of rings worn one on each finger across the hand is a great place to start. Depending on whether the rings are similar in style, or contrasting, you will achieve two quite different looks. Wearing rings on each hand – or bangles on both wrists – in different numbers introduces a cool asymmetric vibe.
Boho
Create a carefree statement by opting for slender, open bangles and lightweight bracelets on the wrist. Two, or three, necklaces of varying lengths will look lovely against a soft, open neckline.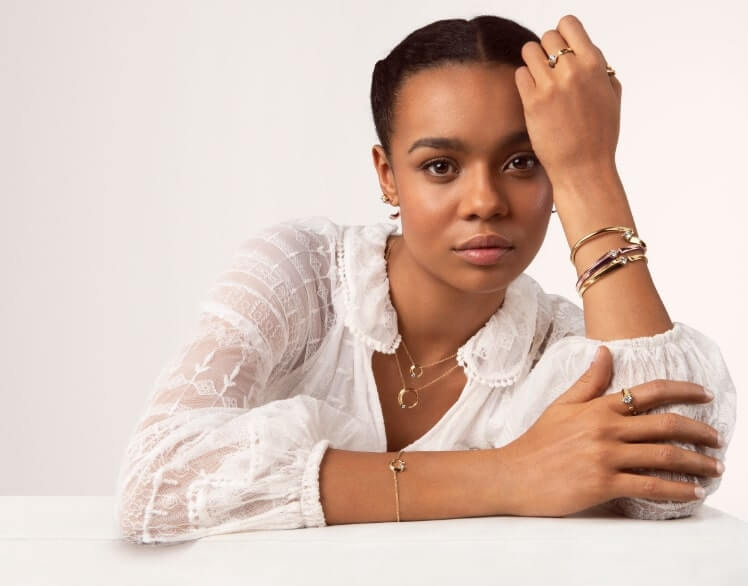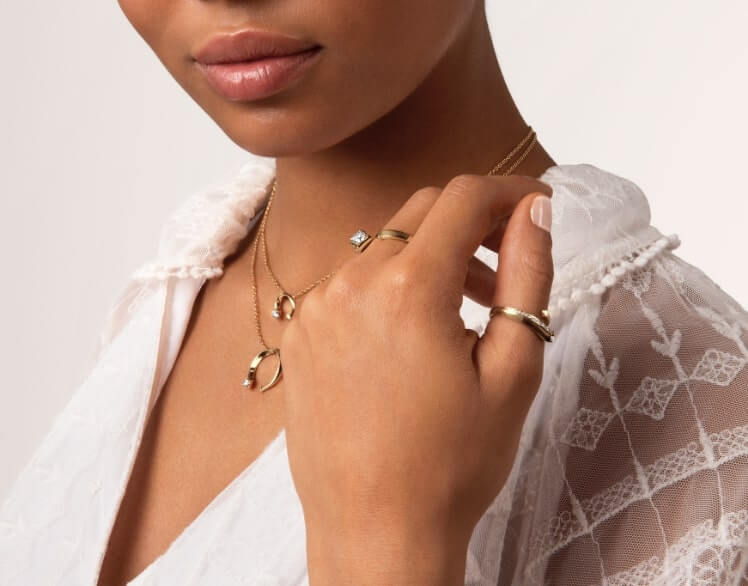 Athleisure
Pair luxury WFH-wear with a pair of diamond earrings – essential for on-screen meetings! – and showcase your favourite gold pendant against a sweatshirt for a look that says laid-back luxe.
Tailored
Forevermark Avaanti™'s clean lines make it a wonderful addition to a look based around chic tailoring. Introduce a note of glamour by styling a pair of Forevermark Avaanti™ Bypass bangles against a sharp cuff or a pushed back sleeve. You can also elevate your office attire by wearing a short-length pendant against an open jacket.
Mix & Match
Street style – always a brilliant barometer of how fashion-forward individuals are wearing their jewellery – shows that mix-and-match looks are a fantastic way to telegraph your individuality. Use this stacked and layered approach as a source of styling inspiration and combine your favourite Forevermark Avaanti™ designs with other items of jewellery that have special significance to you.
On the arm, for example, your stack could include a Forevermark Avaanti™ Open Bangle, and a Forevermark Avaanti™ Closed Bangle, or a pair of bangles in contrasting gold colours; one embellished with diamond pavé, the other plain.
As for rings, why not contrast a Forevermark Avaanti™ Closed Ring – whose plain band terminates in an eye-catching solitaire – with a selection of rings that have more elaborate forms and pavé details.
When it comes to earrings, the Forevermark Avaanti™ Asymmetric Earring set captures this original styling approach perfectly. Wear it on its own, or as the foundation of a multi-piercing look which can include a selection of your existing studs and drops and the Forevermark Avaanti™ Circle Mini Earrings, too.
Where Forevermark Avaanti™ designs include options in white, yellow and rose gold, wearing all three together is a playful way to explore colour. Combining different styles – such as the white gold Forevermark Avaanti™ Curve Grand Earrings with the Forevermark Avaanti™ Hook Pavé Earrings in rose gold – will also help you build an original look.
Styles For Different Occasions
Whatever your personal taste, you'll want to invest in jewellery that complements every aspect of your lifestyle, including the different roles that you play, often on a daily basis.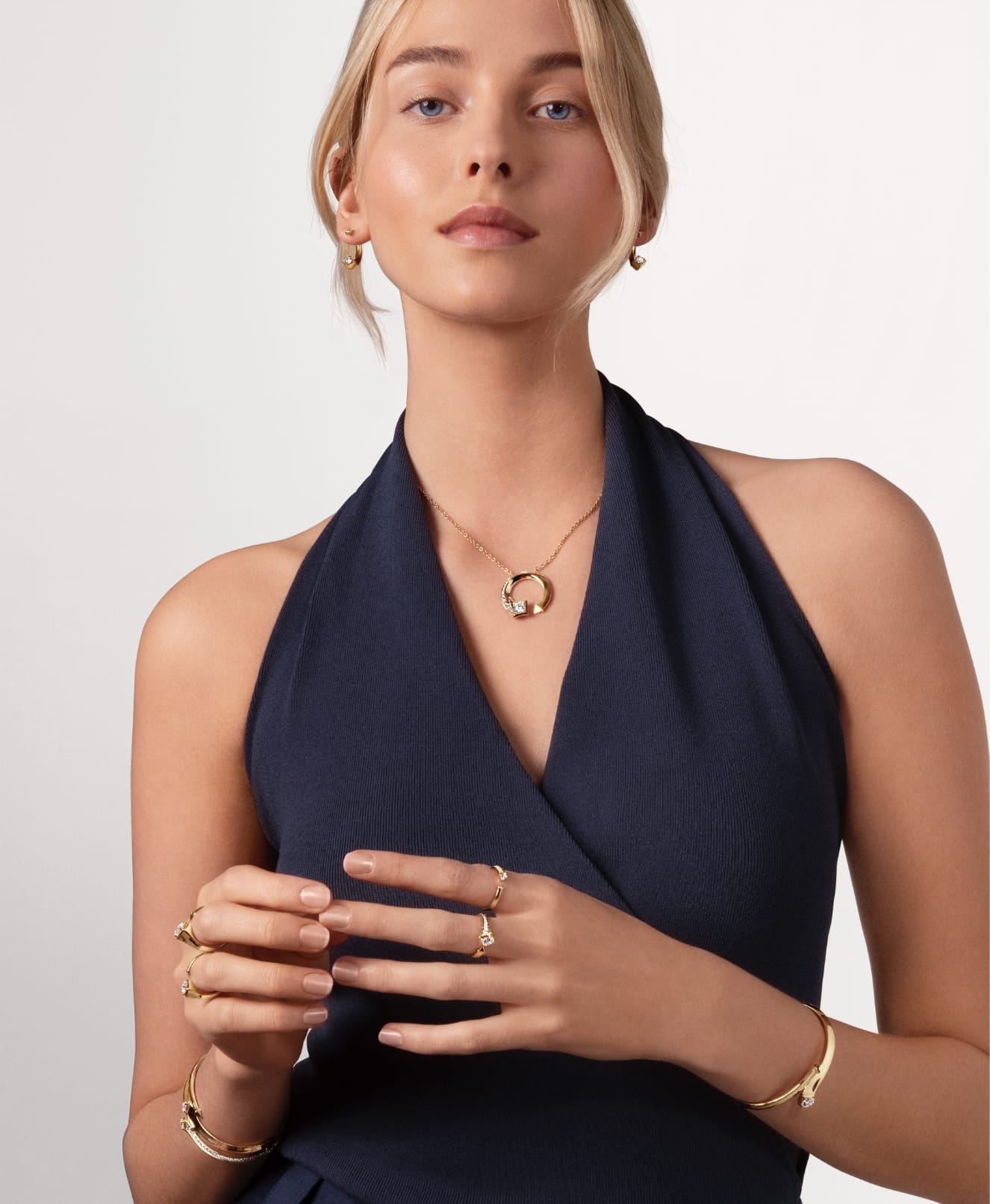 When you have a busy day ahead of you, the last thing you want is to spend ages deciding what jewellery to wear. With its ability to slip easily and quickly onto your wrist, the Forevermark Avaanti™ Bypass Bangle adds an element of easy luxury to your look whether you're working out or hosting a meeting. A simple pair of earrings, such as the Forevermark Avaanti™ Arc Pavé Earrings, will have the same effect.
As you move on to evening – be it a dressed-up dinner date with that special someone, or cocktails and clubbing with friends, evolve your look from day to night with the addition of a Forevermark Avaanti™ Pavé Bypass Bangle, or the Forevermark Avaanti™ Closed Bangle.
Styles For Every Season
Dressing for the weather is something we all do, so consider the climate as you style your jewellery. As temperatures drop, necklines will rise and sleeves lengthen. As well as looking fresh and modern, styling diamond jewellery over a garment gives it a backdrop against which to really sparkle.
If you want to make a special-occasion impact, or simply have some fun with your styling, you can also wear a piece such as the Forevermark Avaanti Bold Diamond Pendant down your back to showcase a plunging reverse neckline or a sweet cut-out detail in your top.
In warmer months, you need no further excuse to rock a stunning pair of Forevermark Avaanti™ Hook Earrings, or a Forevermark Avaanti™ Mini pendant whose delicate chain and dazzling diamonds will look amazing against sun kissed skin.
Unisex Appeal
As the aesthetics of self-expression become more fluid, investing in jewellery that has universal appeal is a great way to celebrate a newfound freedom of style.
With tailored looks appearing in multiple designer collections, fastening a pair of Forevermark Avaanti™ Circle Cufflinks to a crisp shirt cuff is a brilliant way to channel the trend. A Forevermark Avaanti™ Pavé Curve Pin clipped to a lapel, hatband or even a clutch, will introduce an element of surprise to alternative looks. And if street style is more your thing, the unique chain links of the Forevermark Avaanti™ Large Chain Bracelet will inject your look with a dash of effortless urban cool.
Learn More About De Beers Forevermark