Guide to stacking diamond jewellery
A beautiful piece of diamond jewellery can be a celebration of many wonderful things. Life's significant milestones, those cherished special moments, or a reminder to ourselves of just how special we are!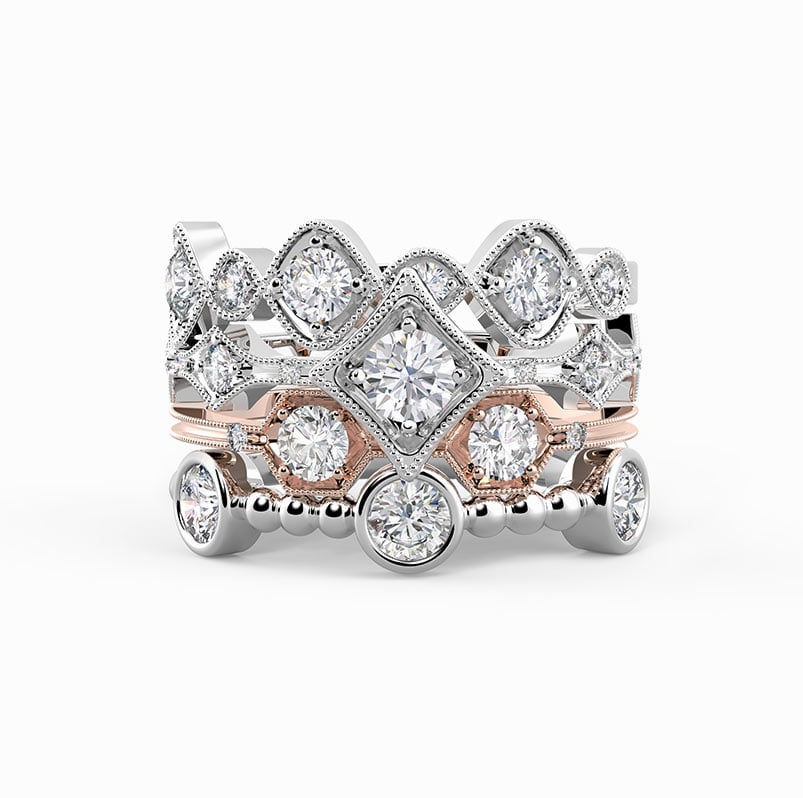 The new Forevermark Tribute™ Collection is an ideal excuse to celebrate unique and brilliant women. From your independence, courage, spirit and determination to your playful heart, guiding hand, and the way you love, the Forevermark Tribute™ Collection has a diamond for every wonderful quality.
For all your qualities that make you the extraordinary woman you are, what better way to encapsulate your unique personality than with a selection of pieces that can be combined together to create a look featuring multiple diamonds, each telling its own story.
Stacking jewellery in this way is a versatile approach that allows much-loved pieces to be worn in multiple ways, according to mood, occasion and personal style. By following a few simple rules, layering personal pieces can be achieved with ease and confidence. And don't forget to post your stacked look on Instagram or Twitter with the hashtags #ForAllThatYouAre and tag us @ForevermarkIndia, for a chance to be featured on our website.
Indeed, given the multifacetted nature of amazing women, what better way to encapsulate a unique personality than with a selection of pieces that can be combined together to create a look featuring multiple diamonds, each telling its own story.
Multiple rings worn together have become a key way to style jewellery, allowing women to update their look according to style, occasion and mood.
An engagement ring, for example, can be worn as a stand alone piece on one hand, with the wedding band on the official ring finger. Alternatively, both pieces can be layered together, and paired with a third contrasting ring, for a powerful look.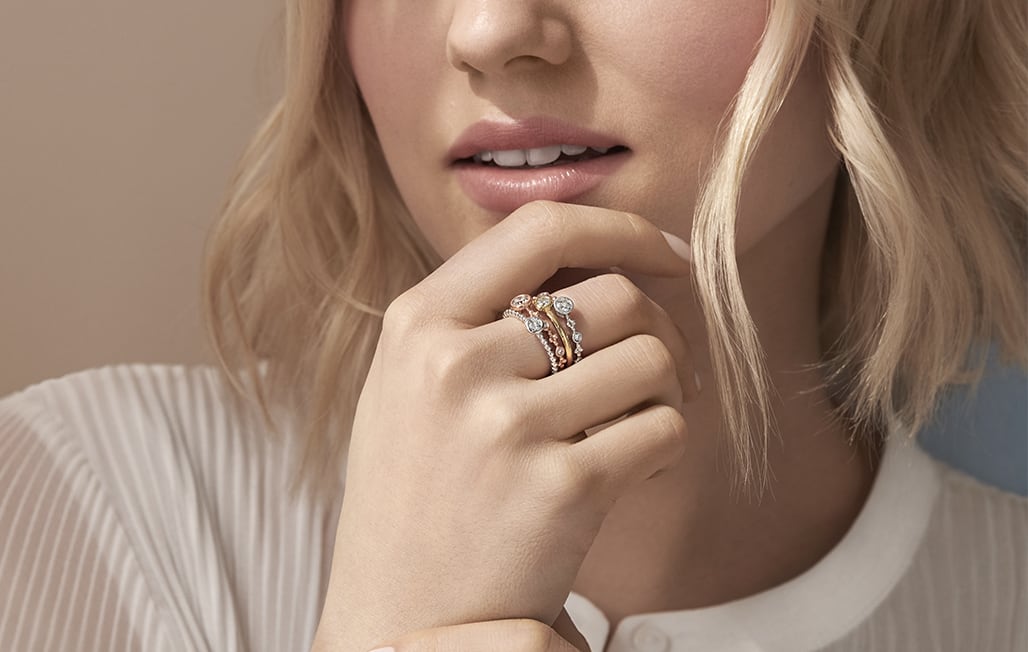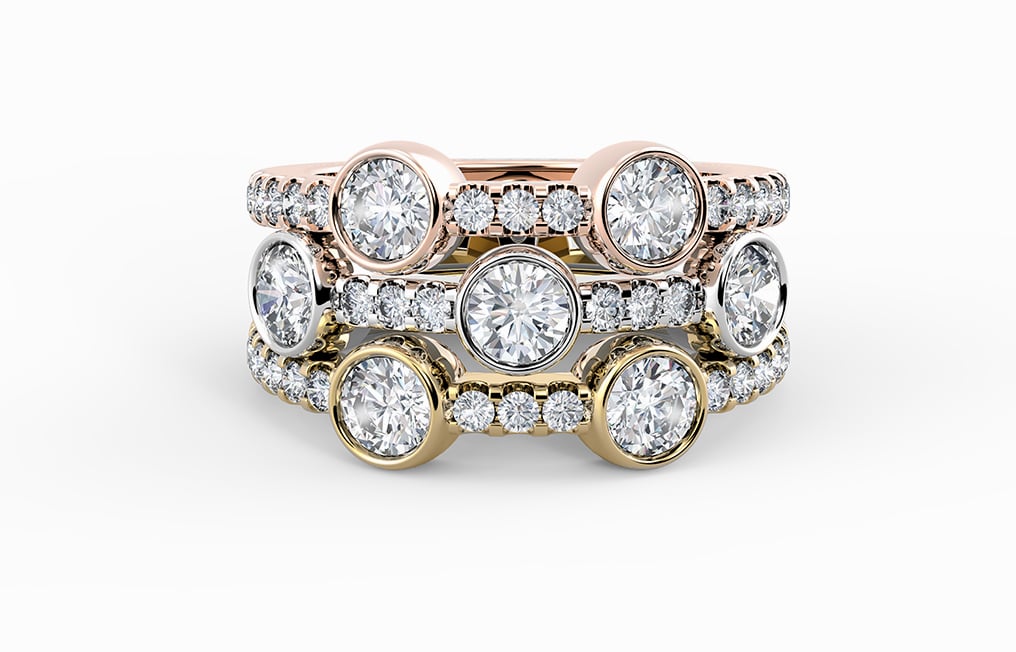 Do remember, of course, to consider the shape of your hands, the length of your fingers and whether you like to wear your nails long, short, painted or natural. These will all have a bearing on the perfect diamond ring stack. Have a look at our Finger Shape Guide for more details.
5 top tips on how to stack rings
Select a tab below to discover De Beers Forevermark's top ring stacking tips
The secret to creating a striking overall look is to consider where your diamond bands will sit on the finger. Rings don't always have to sit at the base of the finger. Midi rings are a great way to add interest so consider purchasing smaller rings that will sit comfortably higher up your finger. Alternatively, consider a pinky ring option or a diamond band for the thumb.
Achieve a sense of symmetry by choosing longer rings for the middle and ring fingers, and shorter rings for your pinky finger and thumb. Alternatively, place two similar styles next to one another on two fingers to create the illusion of a double-finger ring.
Less is sometimes more, so with this in mind, you could frame a bare middle finger with striking stacks on the index finger and ring finger either side.
Last, but certainly not least, nested rings, in which the wedding band and engagement ring sit together, add a whole new dimension to the concept of stacking.
Playing with metal colours that either complement or contrast with each other is a key element of successful ring stacking.
Different metal colours will suit individual skin tones, but ultimately, the choice of colour is down to personal preference. Once this has been established you can create a look that is contemporary and brimming with personality.
Rose gold offers a softer, romantic look and pairs wonderfully with the more contemporary white gold or silvery white platinum which accentuates the sparkle and brilliance of a De Beers Forevermark diamond.
Yellow gold is a timeless and classic choice. Consider creating a stylish stack that incorporates a classic yellow gold diamond engagement ring with a modern white gold wedding band or anniversary ring.
You can also create an unforgettable impression with a collection of rings that are all one metal colour.
Mixing and matching the shape of the diamonds on your rings offers a lot of exciting scope to conjure a beautiful ring stack combination.
Starting with your engagement ring, you could, for example, pair an elegant emerald solitaire, or a classic marquise, with a Forevermark Tribute™ Collection anniversary ring featuring a band of stunning round brilliant diamonds.
When building a distinctive stack, it's important to create a composition that reflects the wearer's personal sense of style. Carefully edited, a collection of rings can be mixed and matched to suit any occasion and every mood. Play with scale to create a statement.
With this in mind, consider creating a stack based on a particular theme. For example, if the wearer loves vintage styles, an eye-catching cocktail ring on one finger would look wonderful next to a delicate diamond band with feminine detailing on another.
Each ring's setting has the potential to add a lot of character to a diamond ring stack. By working with different textures, such as pairing a pavé diamond band with a plain polished setting, you can create a very striking effect.
Alternatively, pick rings whose bands and settings have similar (but not identical) design details to create a unified look.
You can also get creative by juxtaposing contrasting setting styles: a sleek bezel setting next to an elegant four-prong setting; or a wide band against a selection of narrower bands to inject a dash of asymmetry.
Stacking earrings, necklaces & bracelets
Other items of jewellery can be stacked too, of course, and many of the rules above apply. There are some other points you may wish to consider.
As the stacking earring trend continues to grow, creating a first-rate earring edit has become something of an art form where balance and a sense of symmetry are paramount. As well as the earring selection, you will need to consider ear (and lobe) shape, and hairstyle preference including cut and colour.
The Forevermark Tribute™ Emerald Single Drop and Forevermark Tribute™ Round and Pear Drop earrings are a wonderful place to start. Use these as your starting point then build a collection around them that includes a classic hoop, a statement stud and even a sweeping cuff.
When it comes to stacking neck and armwear, a great place to start is by experimenting with scale.
When stacking necklaces you could contrast a slender chain-based style with a multi-diamond line station necklace. Alternatively, include an elongated silhouette into the mix with, for example, a classic three stone pendant. When stacking armwear, a soft narrow bracelet against a solid bangle, or a wide embellished cuff, is always a winning formula.
By following a few simple rules, layering personal pieces can be achieved with ease and confidence.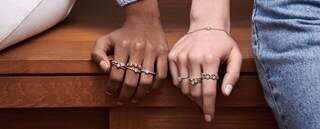 <![endif]-->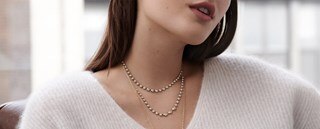 <![endif]-->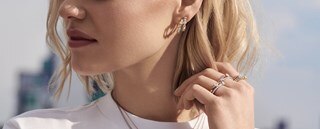 <![endif]-->
Don't forget that you don't have to create a stack all in one go. Purchase pieces suited to your budget at the time, and you can add to the collection when the time is right, or over the years to mark milestones.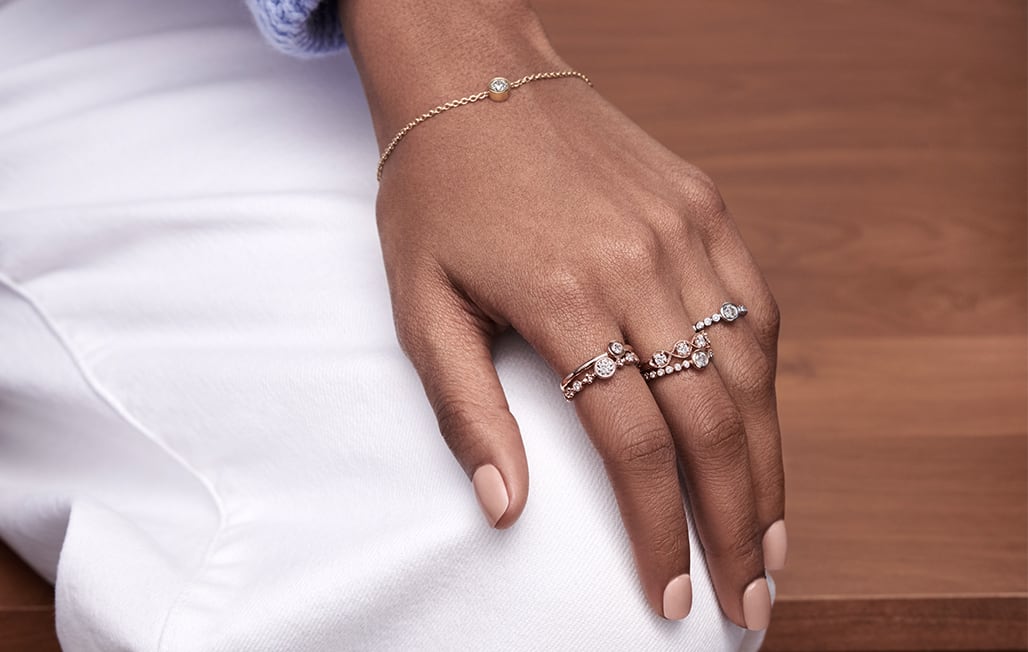 Forever Guides
Sometimes a little help along the way is needed. From choosing the right ring size, to the perfect diamond engagement ring, or just simply how to care for your diamond; be inspired.
Discover more
Learn more about De Beers Forevermark