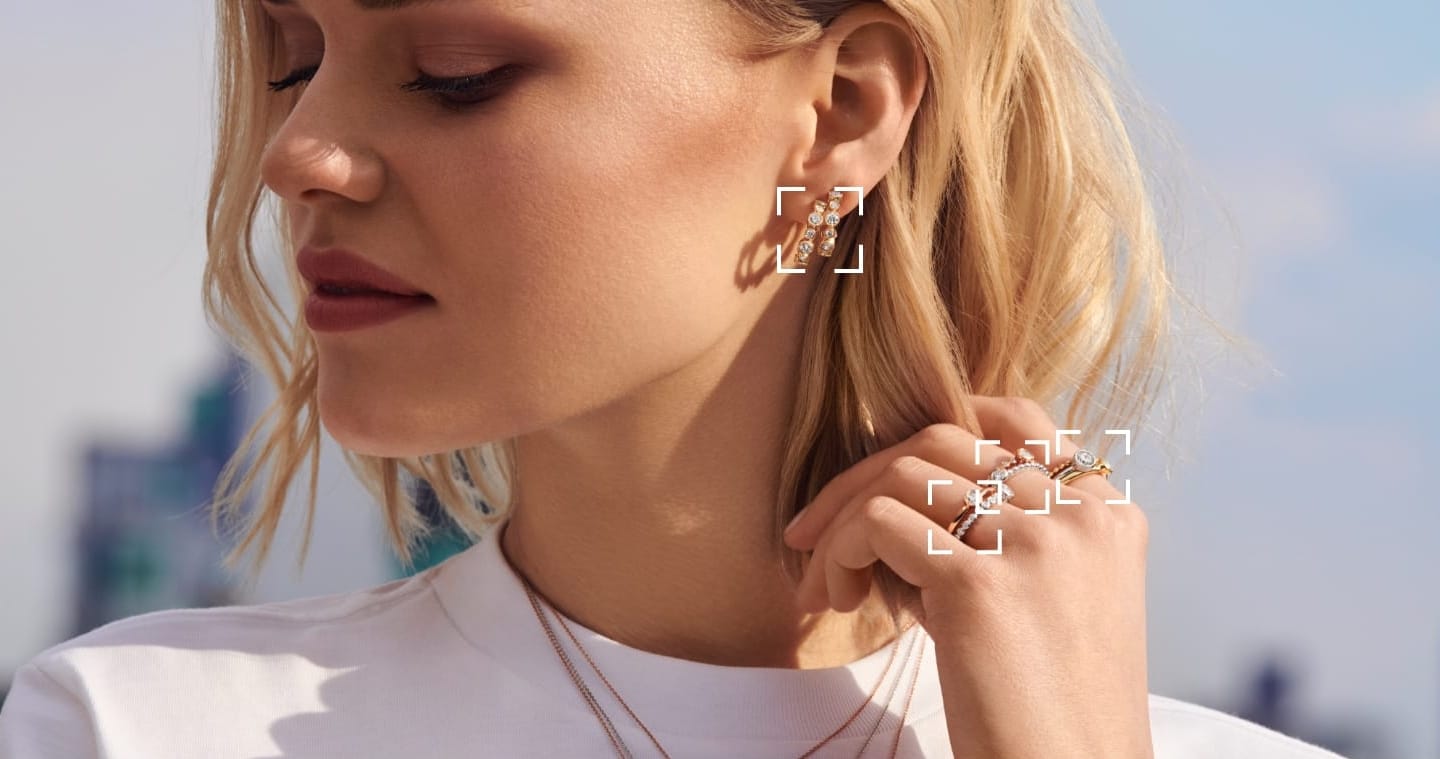 Find the diamond jewelry that you've been looking for with
De Beers Forevermark's

visual search tool
Take or upload a picture
Step-by-step guide
Follow our simple step-by-step guide that makes finding the perfect pieces of diamond jewellery easy.
Click on the 'take or upload a picture' button to launch De Beers Forevermark's visual search tool.
Simply take a photo of the jewellery or upload an image.
Browse De Beers Forevermark's recommendations of similar diamond jewellery.
Discover our new visual search tool that finds beautiful pieces of De Beers Forevermark diamond jewellery that are a perfect match for you.
Find your perfect style
Sometimes finding the right piece of diamond jewellery that is correct for you and your style can be difficult. So, if you struggle to find similar pieces of jewellery to what you already have or to find pieces to go with your existing diamond jewellery collection, this is the tool for you to find perfectly matched pieces of diamond jewellery.
Search De Beers Forevermark with a photo
To begin, simply take a photo of a piece or collection of jewellery, or upload an image, and our visual search tool will pinpoint pieces of jewellery that feature in the photo. If you have uploaded an image with multiple pieces of jewellery you will be able to refine your search of the type of jewellery on the results page.
Recommended by De Beers Forevermark
Your results will then be clearly displayed, showing diamond jewellery pieces that are similar to and will compliment what was uploaded and featured in the image. You will then be able to refine your search further by using the filter to specify metal, diamond shape and type of jewellery.
Forever Guides
Sometimes a little help along the way is needed. From choosing the right ring size, to the perfect diamond engagement ring, or just simply how to care for your diamond; be inspired.
Discover
Now Trending
From runway classics to exclusive collaborations and new collections, discover the latest diamond jewellery trends.
Learn More About De Beers Forevermark
Take or upload a picture