Forevermark Black Label Collection Unveiled at Exclusive Event in New York City Featuring Bespoke Paintings from Angie Crabtree
<![endif]-->
<![endif]-->
<![endif]-->
<![endif]-->
<![endif]-->
Forevermark launched the Forevermark Black Label Collection, the most exclusive collection of diamond cuts ever conceived, at a private cocktail event in New York City. For the first time, fancy shape diamonds are able to exhibit maximum brilliance, fire and scintillation comparable to round brilliant cuts, displaying unmatched sparkle through perfect symmetry. Cutting a Forevermark Black Label diamond requires exceptional craftsmanship to maintain flawless symmetry through the perfect proportions of the facets allowing a "Compass of Light"™ to emerge: a symmetrical arrow pattern that makes Forevermark Black Label diamonds sparkle like no other.
Celebrities including television personality Olivia Culpo, model Rachel Hilbert and influencers Danielle Bernstein of We Wore What and Arielle Nachmani of Something Navy attended the cocktail event to catch a glimpse of the unrivalled diamond collection.
This exclusive event also unveiled four paintings created by artist Angie Crabtree, inspired by the unrivalled collection of Forevermark diamonds. The large scale paintings depict the intricate and brilliant faces of the four diamond shapes in the Forevermark Black Label Collection: round, oval, square and cushion.
<![endif]-->
"Painting Forevermark Black Label diamonds is different than anything else I've ever done because the cuts are really unique."
- Angie Crabtree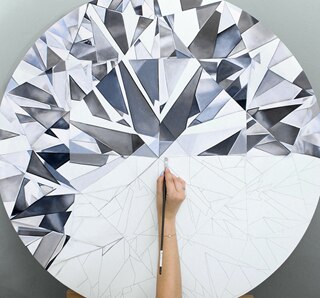 <![endif]-->
<![endif]-->
<![endif]-->
<![endif]-->
Angie Crabtree's passion for painting diamonds was born from the timeless line A Diamond is Forever, and her hyperrealist representations of diamonds in her paintings invites the audience to experience diamonds in a personal way. Crabtree magnified the beauty of the Forevermark Black Label Collection by painting the diamond facets enlarged 1,000+ times, on four custom wrapped canvases in each shape. These four paintings inspired by the Forevermark Black Label Collection will be the first artworks the artist has painted on shaped canvases, allowing her to represent the supreme symmetry and light performance of a Forevermark Black Label diamond in the paintings.
Charles Stanley, President of Forevermark US said, "In our constant pursuit of absolute beauty, we are proud to unveil this new exclusive range of diamonds. Angie Crabtree was the ideal artist to collaborate with on the launch of Forevermark Black Label. The artistic realism in her work allowed her to flawlessly capture the perfect symmetry and unrivalled sparkle of the diamonds in her paintings."
<![endif]-->