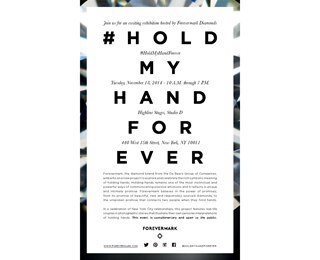 <![endif]-->
Forevermark embarks on a new project to explore and celebrate the rich symbolic meaning of holding hands. The projects kicks off with a public exhibition on Tuesday, November 18 at Highline Stages, 440 W 15th St, New York, NY.
Holding hands remains one of the most instinctual and powerful ways of communicating positive emotions and it reflects a unique and intimate promise. Forevermark believes in the power of promises; from its promise of beautiful, rare and responsibly sourced diamonds, to the unspoken promise that connects two people when they hold hands.
In a celebration of New York City relationships, the project features real-life couples in photographic stories that illustrate their own personal interpretations of holding hands. This event is complimentary and open to the public.