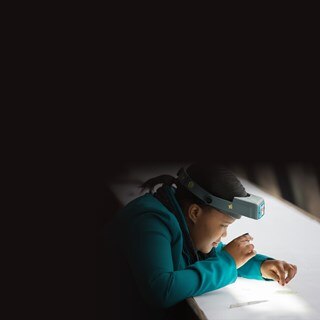 <![endif]-->
In Focus: Jessica and Sonja, Diamond Sorters
Sonja and Jessica are both employed at the De Beers Group of Companies' sorting facility in Kimberley. With different levels of seniority and experience, they share their career highlights and the opportunities they have been given through training and mentorship.
In the heart of Kimberley, a skyscraper stands out: the De Beers Sightholder Sales South Africa building.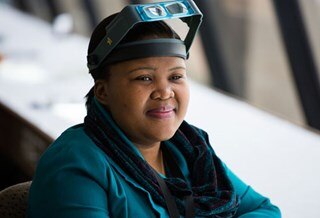 <![endif]-->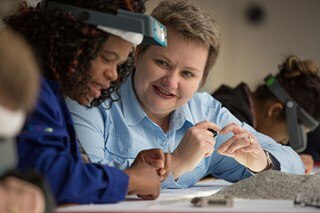 <![endif]-->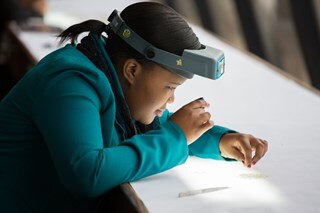 <![endif]-->
The De Beers Sightholder Sales facility has 20 floors, each of them being dedicated to a specific process. On the 17th floor, we meet with Jessica Khonkhobe, who recently joined the company.
After enrolling in a nine-month long learning program, Jessica was offered a permanent role. In order to develop her expertise, Jessica spent three months at the Diamond Academy, learning about diamonds before beginning to work with them. She then learned how to sort diamonds using different tools.
"I love sorting diamonds because you don't know what you are going to see. It's quite fascinating and exciting."
At first, Jessica felt very nervous about working with diamonds, but she now knows how special it is to work with something so precious. She confidently uses her head loupe to do a basic break up, separating diamonds with her tweezers. Before checking the quality of the diamonds with her hand loupe, she separates them by color.
The De Beers Group of Companies encourages employees to grow their potential, providing additional training and career opportunities during their time with the company. Jessica hopes to leverage her diamond expertise and become a business analyst.
Jessica acknowledges that today there are more opportunities for women in the workforce. The youngest of her family, Jessica lives with her sisters and her nephews. Her nephews, aged eleven and three, are fascinated by her job.
Chantelle Webb is Jessica's manager. She joined The De Beers Group of Companies as a sorter in 2001. After six years, she joined the Diamond Academy, where she worked as an instructor for four years. While at the Academy, she pursued additional courses and further developed her career as a supervisor. During her career, she had the opportunity to travel to London and Botswana, providing training to young sorters. She was granted a scholarship to pursue her studies and received additional responsibilities, supervising several sorting floors.
Her department is comprised of 31 sorters, operators and diamond handlers.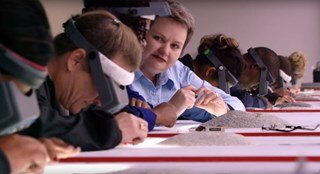 <![endif]-->
JESSICA KHONKHOBE AND SONJA VAN ROOJEN
Sonja Van Roojen is a Project Manager at Kimberley Diamond Sorting Facility.
Having grown up in Kimberly, South Africa, Sonja saw first-hand the impact The De Beers Group has on the local economy.
"Studying wasn't much in my blood; but the mining industry was. When I saw De Beers advertising for sorters, I decided to see what they offered. I was attracted by the opportunity for career progression and travel, and I haven't been disappointed."
Sonja has been working for The De Beers Group of Companies for more than 25 years. Like Jessica, she started her journey as a diamond sorter, with her role now focused on making the diamond sorting process more efficient, either by improving processes and technologies or developing relationships between team members.
Since she joined The De Beers Group of Companies, Sonja has continuously trained to build on her expertise. She became a checker, assessing other people's sorting skills and then a diamond controller, a position that she particularly enjoyed as it involves a lot of relationship development.
As a team leader, she took on both technical and administrative responsibilities. With a very warm and empathic personality, Sonja naturally evolved towards a mentorship role. She also enjoys travelling with her job.
"I did a job swap with someone in our London office, and I really cherished my time there. Prior to London, I spent three years in Namibia, and I have also spent some time in Botswana. In 2003, I spent a fascinating week in Antwerp."
Sonja is also grateful for the great healthcare system that The De Beers Group of Companies offers.
"We've got one of the best medical units in South Africa, and when I got a serious illness last year, the company was incredibly supportive."
Sonja recalls that the development of Kimberley has been very closely linked with mining. "When I was a child, for example, De Beers helped my school develop a sports field and a swimming pool.."
<![endif]-->
For Women. Forever.
We believe that thriving, sustainable economies not only benefit from, but require the full and equal participation of women; and that it is every woman's right to make such a contribution. Forevermark, as part of The De Beers Group of Companies, supports women entrepreneurs and their businesses and contributes to the provision of good quality healthcare and education.