<![endif]-->
Capricci™ The Nose Pin Collection

Developed around the idea of "Wear What You Feel", Capricci™  , The Nose Pin Collection offers an innovative design encouraging women to express their creativity.
Capricci™  The Nose Pin Collection
<![endif]-->
<![endif]-->
<![endif]-->
Set with beautiful Forevermark diamonds, Capricci™ embellishes women's beauty with originality and elegance. A must-have to develop different looks from casual to evening wear, Capricci™ is a new way to express individuality.

The Capricci™ Collection is composed of three unique Forevermark diamonds, set in a three-prong nose pin and matching stud earrings. Express yourself with seven interchangeable nose pin jackets, or keep it classic by hanging the jackets from the accompanying charm bracelet.
The Flywheel jacket has been designed to represent energy and enthusiasm while the Heart jacket suggests feelings of love and romance. A gift of nature like a Forevermark diamond, the Flower jacket embodies natural beauty. The Hexagon embodies a strategic and powerful mind. The Crescent Moon jacket relates to a sense of peace and tranquillity. The Star is the perfect accessory to sparkle in the evening. The Butterfly jacket, another connection to nature's beauty, represents playfulness and freedom of the mind. Women will find in each jacket an intimate way to express their own personality.
For more information about Capricci™ The Nose Pin Collection, call our customer service team at 1.800.210.2121 or find a store near you.
<![endif]-->
Wear what you feel
Watch the Capricci Nose Pin Film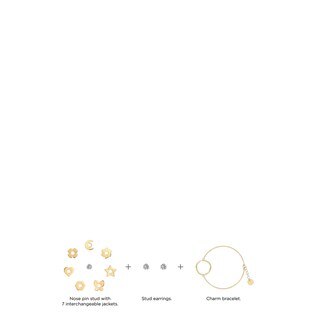 <![endif]-->
Wear What You Feel...
Capricci™  is presented with seven exclusive interchangeable jackets to suit women any day of the week.