Classic Diamond Jewellery: Stud Earrings
The classic diamond stud earrings are timeless and essential in every jewellery collection.
What is a diamond stud earring?
A diamond stud earring typically features a diamond (or a small cluster of diamonds) mounted on the end of a post, which passes through a piercing in the ear, or earlobe. With no visible point of connection, studs appear to float where they are located.
References to ear piercing date back more than five millennia and can be found in cultures around the world. Like hoop earrings, studs have a rich history of symbolism, often denoting religious, tribal and political affiliations.
Modern diamond stud earrings rose to prominence in the 1870s when new diamond cutting machines and open-claw settings, both of which increased the amount of light reflected by diamonds, transformed diamond studs into the popular style they remain to this day.
Why choose studs?
Like a striking solitaire ring, or a statement pendant necklace, a beautiful pair of diamond studs is a key feature of any jewellery collection. Diamond studs are amongst the most versatile earring style and have great cross over potential, appealing to both women and men.
How to choose diamond stud earrings
Bear the following points in mind when selecting your diamond studs:
Metal
The metal colour you choose can have a dramatic impact on the overall appearance of your studs. White metal is timeless, elegant and chic. Rose gold is often selected for its feminine qualities, but it can also introduce an on-trend vintage sensibility to your look. Yellow gold, and mixed gold settings, can be either traditional or modern, depending on the style of your studs, and how you pair them with other items of jewellery.
Top tip
It's worth noting that some people have allergies to particular metals used in gold alloys, such as copper or nickel. If this sounds like you, consider earrings made with hypoallergenic platinum.
Size
There are lots of different diamond stud earring sizes to choose from, whether you want something subtle or something that stands out.
"One of the many fabulous things about jewellery featuring large diamonds is its versatility, and the right pair of studs will help you transition your look from relaxed daytime chic to night-time glamour" says Federica Imperiali of Forevermark.
Note that larger earrings can tip forward if not securely fastened at the back, so when deciding what size diamond stud earrings to buy, make sure they sit flat on your ear and have an appropriate fastener.
To find out more about large diamonds read our Carat guide.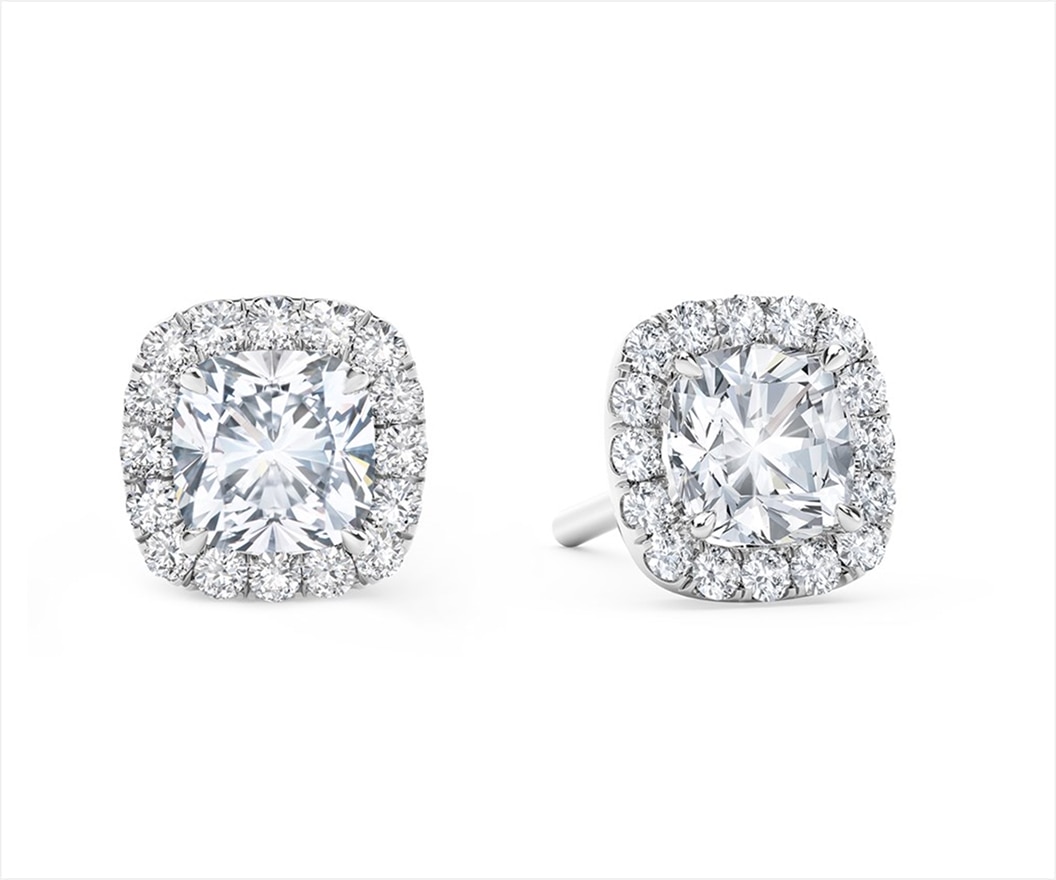 Setting
As well as holding and protecting diamonds, settings must show them off to their best advantage. Prong settings minimise the amount of metal used, allowing more light to pass through a diamond. Halo settings have classic appeal whilst bezel settings create a modern look. Both halo and bezel setting styles can create the illusion of a larger stone. Hidden details, such as a ribbon bow motif, add an element of surprise and symbolism.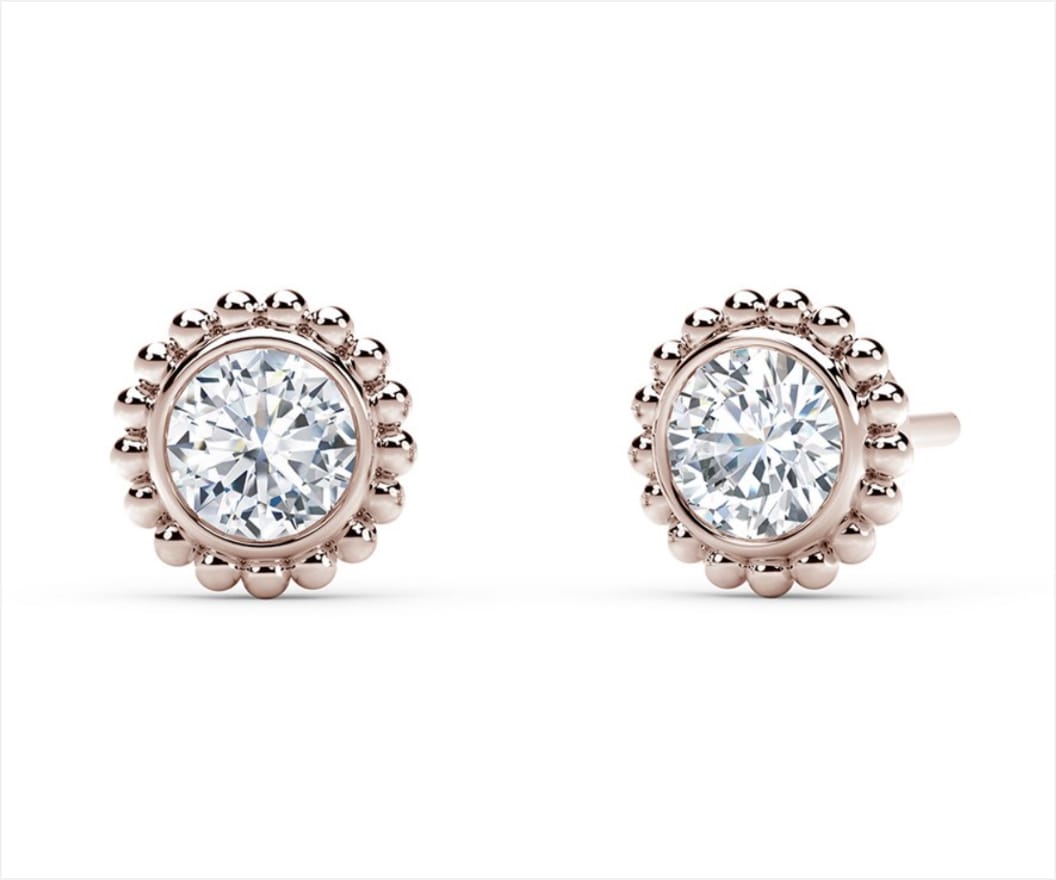 Style
Whatever your personal style, there is a Forevermark diamond stud for you. If you prefer silhouettes with an organic look, opt for asymmetric diamond clusters, or petal-inspired outlines. Alternatively bows, moons and stars will add whimsical charm or if geometric styles are more your thing, look for pattern-based designs, repeated elements and architectural forms.
Diamond Cut & shape
There's no such thing as a best cut for diamond stud earrings – they all look great! A round brilliant diamond is the quintessential classic. With their attractive proportions, squarer shapes, such as the cushion and princess cuts, are very popular at the moment. And if you have a taste for something a bit different, fancy shapes – heart, marquise and oval – are all fantastic options, each with its own unique personality.
Top tip
To keep them sparkling, learn how to clean diamond stud earrings with our How to care for your diamond guide.
With statement jewellery turning heads on leading catwalks and red carpets, this is a fantastic time to invest in an outstanding pair of diamond studs.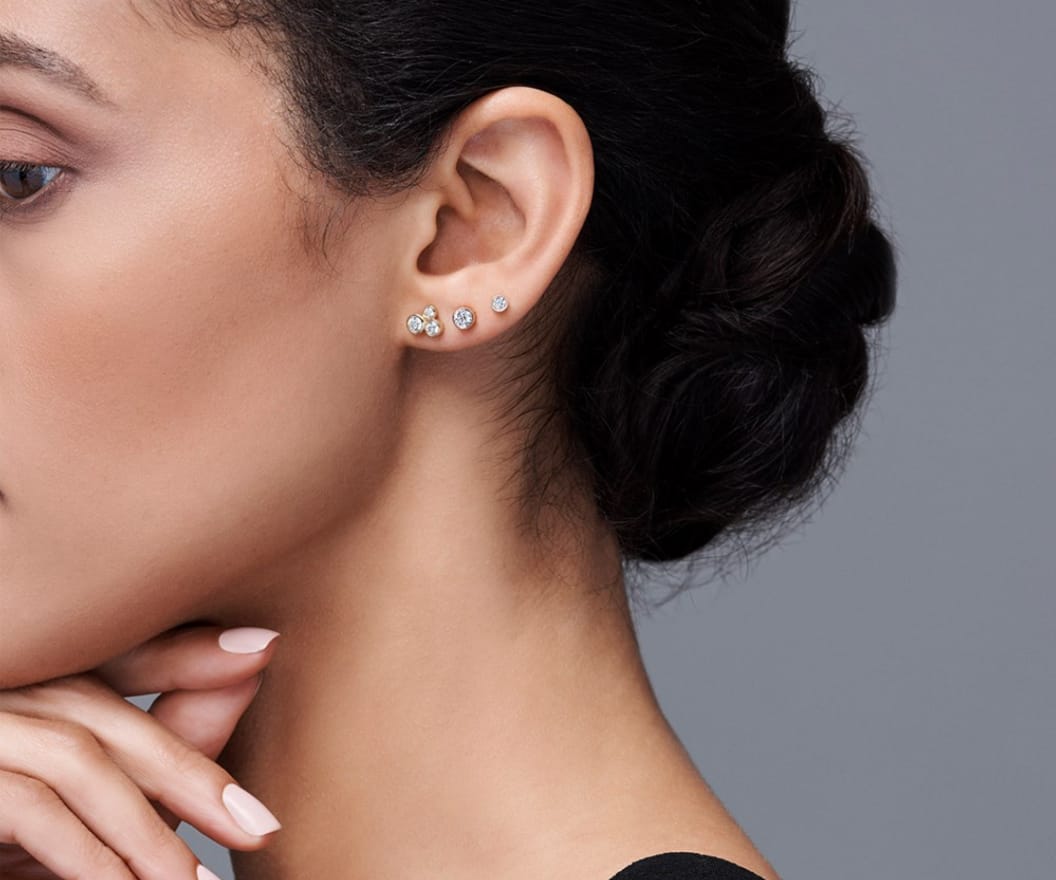 How to wear diamond stud earrings?
Whether worn solo, in pairs or in multiples, diamond stud earrings always look great. "As the vogue for multiple ear-piercings continues to grow, stud earrings play a central role in any head-turning arrangement," says Federica Imperiali. "Pair your favourite studs with other diamond earring styles such as a diamond hoop, a slender drop, or an earring jacket, to create a look that brims with personality."
Pair your favourite studs with other diamond earring styles such as a diamond hoop, a slender drop, or an earring jacket, to create a look that brims with personality.

<![endif]-->
<![endif]-->
The Forever earrings
Whether its adding a chic touch to your everyday or inserting some sparkle to those special occasions, however you choose to wear your diamond stud earrings they will always and Forever be a classic piece of diamond jewellery.
Jewellery Stacking Guide
Discover how to layer your much-loved jewellery pieces in multiple ways to create unique looks according to mood, occasion and personal style.
Learn More About De Beers Forevermark